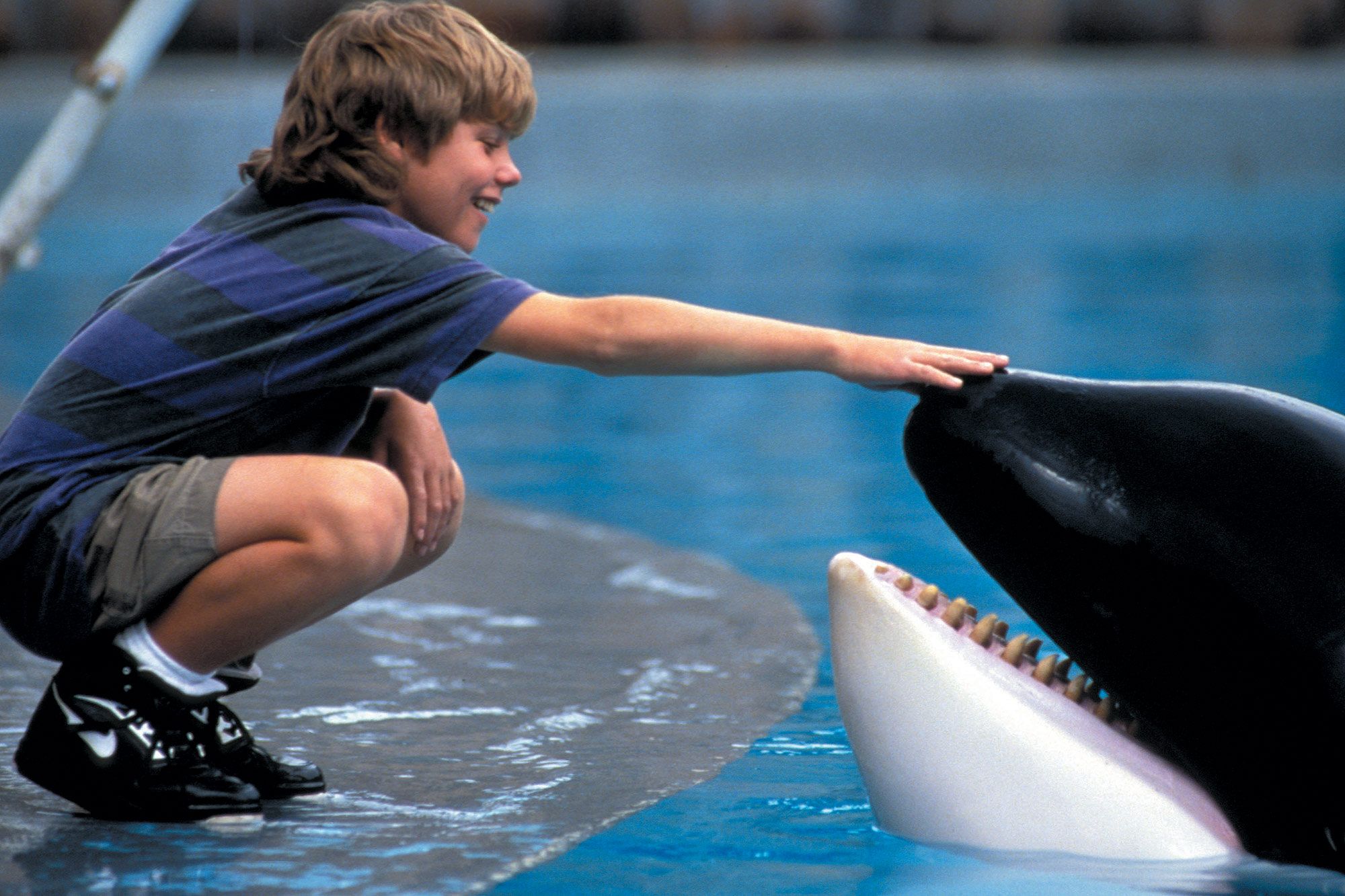 It's Sunday, the holiday but i thought to settle down for work. Kid went out to play after watchin' his cartoon but before i could know, the remote was in my hand and there were channels getting flipped on the big black paneled screen called television. i was hopin' to catch on a good English movie. Adding to my luck, there was one -
Free Willy
. Never heard of it but goin' by the info, i decided to continue.
Free Willy
is about a killer whale named as Willy (the hero for me) and a little boy named Jesse. Since i had missed out on the first 55 minutes, i could gather Jesse is a street kid and somehow got a hold on the captive Willy under his special boyish training. Willy follows his instructions. The Greedy People of the show tries to put a show of Willy with Jesse to earn fancy money but Willy couldn't perform. Jesse gets disappointed and is about to leave for some city when he realizes Greedy People have turned Wicked and are now planning to kill Willy. Jesse also learns that Willy wants to return to his family that lives on the other side of the ocean. Jesse, the boy now turned savior, with the help of Good People, finally manages the tough task despite of Greedy now turned Wicked People's tricks. Their crazy fight in the water gets worth if you see the last strike of Willy in order to get to the other side of the ocean, where his family awaits. It's worth a watch. My mouth fell open in a big O and these words slipped out on their own -
That's just awesome!
So you have to watch it to have my awesome enriched moment.
Do you know you tend to eat less during movies that present you The Thrill generously? Yeah, because you get busy in biting nails. You just can't move away from the screen or lose the sensation somewhere in the munching noise. Free Willy (a 1993 movie) is a thrilling watch.
i bet you will fall in love with the beauty and magnificence of Willy. It's body is so shiny and sparkling that you'd want to touch it! It's snout is long and blunt much like a whale but you'd like to hold it and caress too! And it's fin (that stands tall on the back of whales) is curvy! It doesn't look up, it rather shies away to Willy's left side. That's Willy's unique feature. Over all, Willy won my heart out and out.
Now that's great! i want a killer whale for me, as a pet, a
real
one. When i watched
Two Brothers
, i wanted a tiger and now...a whale. My husband is about to order a new phone and a Kindle cover for me. i wonder what he will have to say on this new demand. Adding to
his
luck, Amazon doesn't have any ears for the customers as versatile as me.
In the process to provide useful links here, i came to know that Willy (real name Keiko) is dead! That's just heart breaking! Read the info here -
Star whale Willy's death
. Guess Willy had jumped onto the different other side long ago however watch a documentary on Keiko -
The Free Willy Story Keiko's Journey to Home
.